It's kind of our thing; she asks me to do something and then I do it.
(She does my dishes in return, so we might have a good thing going.)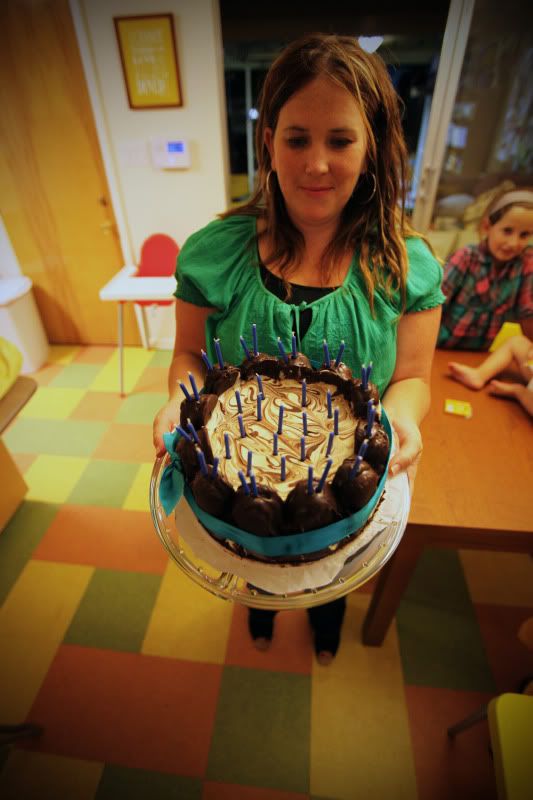 A charlotte is a dessert where a pan is lined with some type of cake slices, a stabilized cream of some sort is poured into the center, and the whole thing is refrigerated until set.
Here's how we made the charlotte:
(Please forgive me for any omissions or errors since I didn't take precise measurements, I just put it together until it looked right. Use your good baking/cooking judgement at all times and keep your hands to yourself.)
10" springform pan
16 Chocodiles
Bavarian Cream:
2 cups milk
1 vanilla bean
6 egg yolks
Dash salt
2/3 c. sugar
1 tsp unflavored gelatin (I think, it was most of a little packet of gelatin)
Bring the milk up to a boil (do not let it scorch!) and add the split vanilla bean and salt. Remove from heat and cover, steep for 10 minutes, strain out the bean. Beat the yolks with the sugar until a thick ribbon forms. Add the milk gradually until combined, pour back into pot and stir over medium heat until thick and ALMOST boiling (DO NOT BOIL.) Bloom the gelatin (sprinkle over a couple tablespoons of water and let stand for a few minutes, heat in micro for 20-30 seconds until melted) and add to still warm cream. Cool cream slowly by pouring into a bowl set over an ice bath and whisk.
Chantilly:
2 cups heavy whipping cream
1/2 c powdered sugar
1/2 tsp vanilla
1.5 tsp gelatin (most of another packet of gelatin,) bloomed
Beat all ingredients in a stand mixer until stiff peaks form.
Chocolate Ganache:
Good quality chocolate (we used a mix of a Lindt milk chocolate bar and semi-sweet chocolate chips)
Equal amount of cream to chocolate by weight
Heat the cream and add chopped chocolate. Stir until thoroughly melted, refrigerate until thick but still pourable (an hour or two.)


To assemble:
Slice three or four Chocodiles horizontally into at least halves, thirds would be best. This will be messy. Probably easier to freeze them a little at first. Line the springform pan bottom with parchment. Also cut a 7" strip that will fit around the springform like a collar, taping in place if you need. Lay the strips of cut Chocodiles, chocolate side down, in the bottom of the pan. Cut a little off the end 12 Chocodiles (so they have a flat bottom) and set them vertically around the pan. If you're feeling fancy, you can brush some of the ganache around the Chocodiles to seal the edges and pour some into the bottom to coat.
Gently fold the Bavarian into the Chantilly. Fill the prepared Chocodile-lined pan with the cream, spooning in the ganache to create layers. Drop a few drizzles of ganache on the very top of the cream and drag a sharp knife to marble the top. Refrigerate for 4-6 hours until completely set.
To serve: release the springform ring, remove the paper, tie with a ribbon, cut into wedges.